Netball Team win Stamford tournament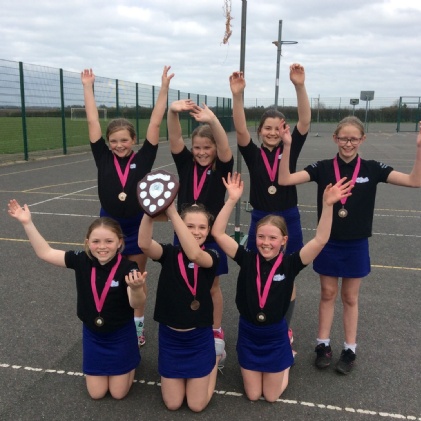 On Thursday the netball team competed in the annual Stamford and District Netball Tournament
Netball Captain Millie has written the following reports:
Girls' Netball Report
On the 21st of March, the Girls' Netball team travelled to Stamford Welland Academy to play in a netball tournament.
They played four games winning all of them. The scores were 7-1, 10-1, 13-0 and 6-1. The team scored 36 goals and only let in 3 over the whole tournament. The team (Millie, Georgia, Emily, Isabella, Erin, Maya and Megan) received some wonderful pink medals and a huge trophy.
I think it was an amazing achievement hopefully we will do just as well next year.
Mixed Netball Report
In the autumn term of 2018 the mixed netball team (Millie, Georgia, Erin, Emily, George, Cole and Fintan) played six matches winning five and drawing one, coming away with the trophy. This was Uffington's twelfth time winning the season therefore they will be going through to the county final later this month.
I am proud to be Uffington's captain: I think we have achieved loads this season and am looking forward to the counties.